Availability:
Lightmart's Factory Direct Square Steel Light Poles are available for pick-up at our Chicago area facility. We make it Easy as 1-2-3 to get a great deal on our factory direct square steel light poles!
1. Select Your Options then click Get A Free Quote.
2. A member of our sales team will call you within 24hrs to prepare your quote including quantity and Illinois sales tax. Arrange payment and pick-up date with our sales team.
3. Pick up your order at our Chicago area facility.
Product Description:
This 11 gauge heavy duty square steel light pole has a 10 foot height and 4 inch width. The maximum EPA rating for this light pole at 140 MPH is 7.6 square feet with a 1.3 gust factor. This made in the USA light pole is proudly manufactured at Lightmart's state of the art facility.
Product Specifications:
Pole Top Options: A plastic top cap with retaining metal spring is available at a surcharge. If a tenon option is selected, a 2-3/8" tenon adaptor will be provided to be bolted on top. All other pole top configurations such as drilled holes are to be done in the field by the contractor.
Pole Shaft: Electro-welded ASTM-A500 Grade C steel tubing with a minimum yield strength of 50,000 psi is used to fabricate the pole shaft.
Handhole: A 2 inch wide x 4 inch tall handhole is provided 18 inches above the pole base. A rectangular shape cover with stainless steel screws is also provided.
Base Cover: A 2 piece ABS plastic square base cover is available at a surcharge.
Anchor Bolts: A set of four ¾" x 17" x 3" fully galvanized anchor bolts with zinc plated double nuts and washers are available at a surcharge for each light pole. A portion of the anchor bolts are threaded for securing and leveling the light pole. Anchor bolts conform to ASTM F 1554-07a Grade 55 standards with a minimum yield strength of 55,000 psi.
Color and Finish Options: Industrial grade dark bronze powder coat.
Maximum EPA with 1.3 Gust Factor:
110 MPH: 14 Square Feet
140 MPH: 7.6 Square Feet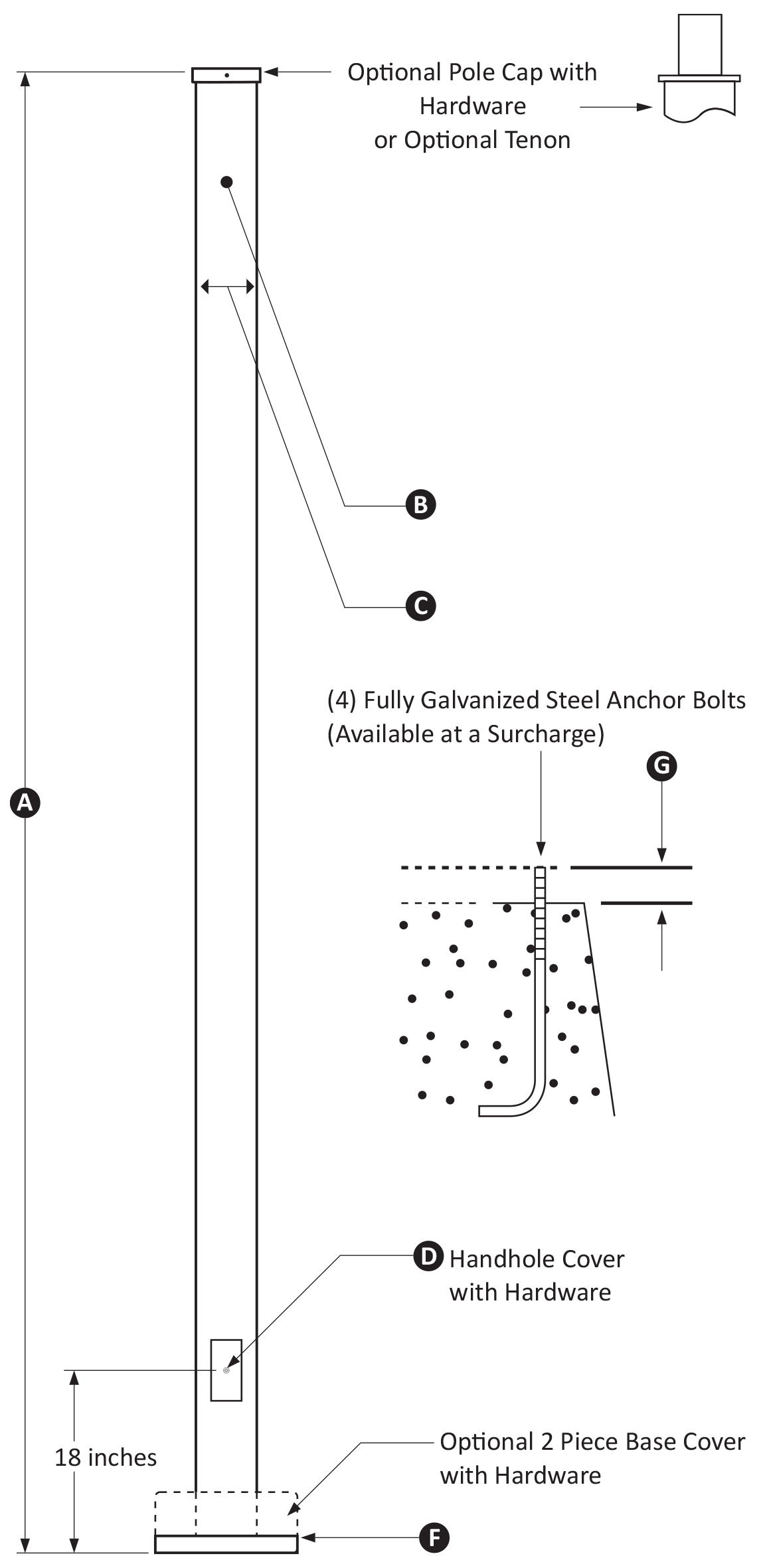 LightMart.com is not responsible for improper pole loading.