Driving past a car dealership at night and seeing all the new, bright, and shiny vehicles on display is an effective way to get customers onto your lot. Your cars motivate customers to visit your dealership, and you want to make sure they are displayed in the best light possible. The right lighting could be the difference between bringing the customers in or watching them drive on by without noticing your product.
Car dealership lighting levels are important to your business, and thoughtful lighting design can make your cars shine. This article will show how your choice of lighting and light poles can make your cars look great and bring in customers eager to buy.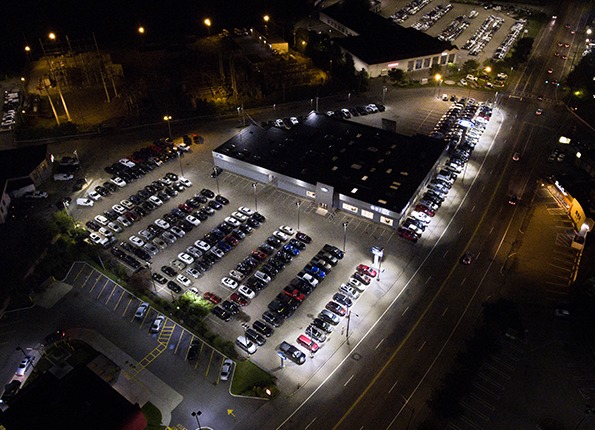 What Light Poles Are Best for Auto Dealerships?
When planning a lighting project like lighting a car dealership, careful planning is important. You want the lighting to make your cars look their best and make the customers feel welcome and comfortable. Here are several elements to consider:
Pole Materials: There are three materials available: aluminum, steel, and fiberglass. Aluminum is lightweight and is resistant to the corrosive effects of weather. Fiberglass is lightweight and does not rust. Steel is a popular option because of its strength and versatility.
Installation Options: There are two installation options: direct burial and anchor-based. Direct burial poles are cost-effective and well suited for car storage areas where the space is unpaved; you can easily dig for installation. Anchor-based installation is best for a car dealership lot since anchor-based poles are easily replaced in the case of damage from a car impact. The foundation can be raised above the ground for safety purposes. You would have to dig up and replace the entire pole with direct burial, a more costly and time-consuming process.
Height of the Pole: Pole height is an important consideration. Too low, and the lot will not get enough light coverage. It will also shine too brightly near the ground, creating a glare problem for your customers. Too high, you may lose lighting effectiveness because of too wide a dispersal. A common pole height for parking lots is 20-30 feet tall, which would work well in a car dealership lot.
Type of Fixture: LED lighting for car dealerships includes outdoor commercial lighting fixtures such as floodlights, wall packs, area lighting, and street lighting. All these fixtures feature energy-saving LED-efficient light. You should also consider the area you are lighting. You will want brighter light in areas displaying your cars for sale. Other low-traffic areas typically use lower light levels. Don't forget the exterior walls of your building. There are ideal locations for mounting wall packs and floodlights.
Number of Fixtures Per Pole: In most cases, you will need more than one fixture on a pole if you are lighting large areas or need to light areas on multiple sides of the pole. By utilizing this method, you can maximize the use of light poles while optimizing dollars spent.
Number of Foot Candles Needed: Foot candles refer to the amount of light needed to illuminate a given area. As an example, the exterior of a building like a gas station may need 3–5-foot candles, but a large commercial area like a car dealership would be better served with 10–20-foot candles. Word of caution, municipalities are extremely strict regarding light spillage to sidewalks. Get your lighting plan approved by the municipality before making your purchase. See the example of a lighting design layout for a car dealership.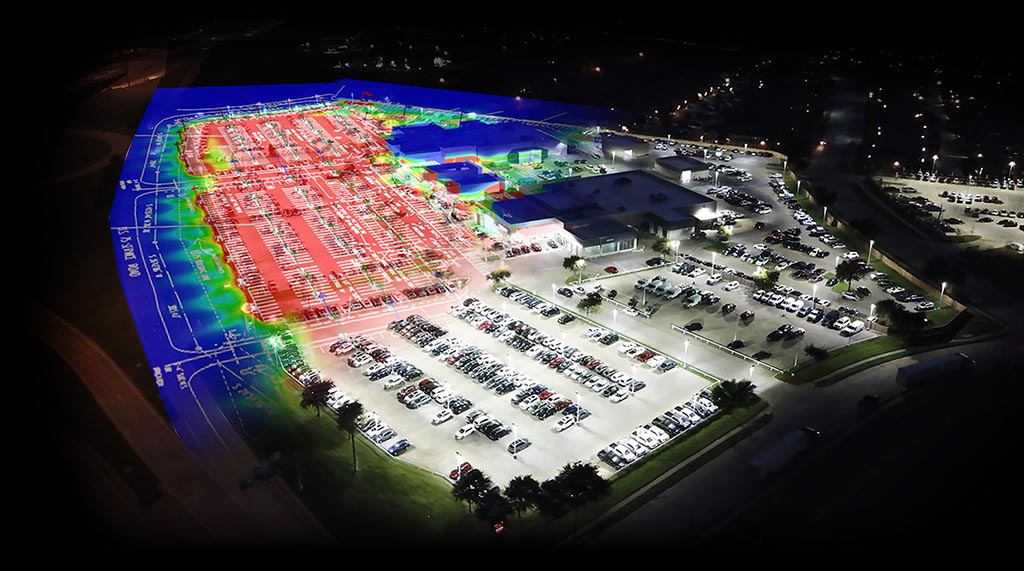 Are Street Lights Needed in Front of Car Dealerships?
The biggest way to draw customers to your dealership is by displaying the product in the best light possible. If it is night and your cars are not looking as bright and shiny as possible, you won't get the foot traffic needed to keep sales high. You also want your customers to feel comfortable and secure when they walk on the lot.
Adequate lighting is paramount to keeping your sales as high as possible. Not only are streetlights needed in front of your dealership, but they can be the difference between high sales volume or a slow day at the office. Your vehicles are valuable, and a well-lit area is one of the best ways to deter criminal activity. In addition to lights, you can add security cameras to your light poles to improve security on your property(s).
Why Is Lighting So Important for Car Dealerships?
There are many reasons why lighting is important for car dealerships. Here are some of the most common ones:
Sales/Marketing Benefits: The first thing good lighting does is catch your customer's eye. When customers are driving along the road, you want them to see your dealership even from a distance. The lighting should attract customers and motivate them to park their cars and walk onto your lot. Once on the lot, think of your customers' first impression as they look at the cars. They should be seeing bright and shiny vehicles with lighting that makes the cars' colors pop. Your customers should be impressed when shopping for their next vehicle. You want oohs and aahs? The buying process should be an exciting sensory experience. Only a well-planned lighting design will get the desired effect.
Security of Product: The cars in your dealership are worth a lot of money. They are the money makers for your dealership, and you need to protect the product. Well-planned dealership lighting can make your cars look their best and be a useful security feature by deterring vandalism. In fact, a University of Chicago study found that increased lighting reduced crime incidents by 36%. Is it worth investing a small amount of money for sufficient lighting rather than a large amount of money in your vehicles' loss and or repair?
Customer Convenience and Safety: Consider your car dealership parking lot lighting. Do customers feel welcome and safe when parking in the lot at night? Or are they likely to leave because they feel uncomfortable with the inadequate lighting? Once customers park their cars, is there sufficient light so they can see the walkways and find their way into the entrance? Proper dealership lighting will take all these factors into consideration.
LightMart.com Will Help You Sell Your Vehicles
For any lighting solutions, it's important to consult with a lighting professional. The lighting experts at LightMart.com can help. We can assist you in planning your auto dealership's LED lighting and which light poles will work best for you. Call us at 1-800-443-8254 or contact us on our website for any planning and decisions you need to make in your car dealership lighting design. We will be happy to make your dealership a well-lit place.