Parking lot light poles often go unnoticed in holding up the reputation of a business or an institution, ranging from neighborhood malls to clubs, shopping centers, and different types of professionally managed retail areas. The overall experience and the first impressions of a visitor at an establishment often begin with the parking lot, where most people can be deterred by lots with shaded areas or dark zones that create a sense of vulnerability. A well-lit parking lot can contribute to the drivers' better, more coordinated movement and provides a sense of safety for pedestrians. The way a parking lot looks speaks volumes about a business or public institution, and the role of parking lot lighting is critical here. Good lighting makes the area more welcoming, encouraging people and increasing foot traffic. Light poles have been conventionally used for illuminating parking lots, but the impact of poles on the parking lot lighting's performance is seldom understood. Read ahead to understand why choosing parking lot light poles needs serious consideration and professional expertise…
Introduction to Parking Lot Lighting and Light Poles
Parking lot lighting or parking zone lighting refers to the same outdoor lighting meant to illuminate the area where people park their vehicles, and there is a high incidence of movement of automobiles, drivers, pedestrians, and commercial vehicles. This includes parking spaces, driveways, and pedestrian pathways. Light poles are as crucial as the choice of lights, and even if the more compatible and more effective light poles were not incorporated during the planning phase, there is room to upgrade the light poles in the future. This applies to light poles installed in other institutions, such as sports courts, parks, or publicly used outdoor areas, apart from parking lots. This type of outdoor lighting is meant to perform in the most adverse climatic conditions and should need minimal maintenance. Such exterior lighting is usually mounted on poles, ensuring adequate illumination and maximum lighting coverage. The choice of light poles greatly impacts how efficient the parking lot lighting ecosystem is. It contributes to the maintenance costs & energy savings of the parking lot and the ability of the business to induce confidence in first-time visitors or regular shoppers.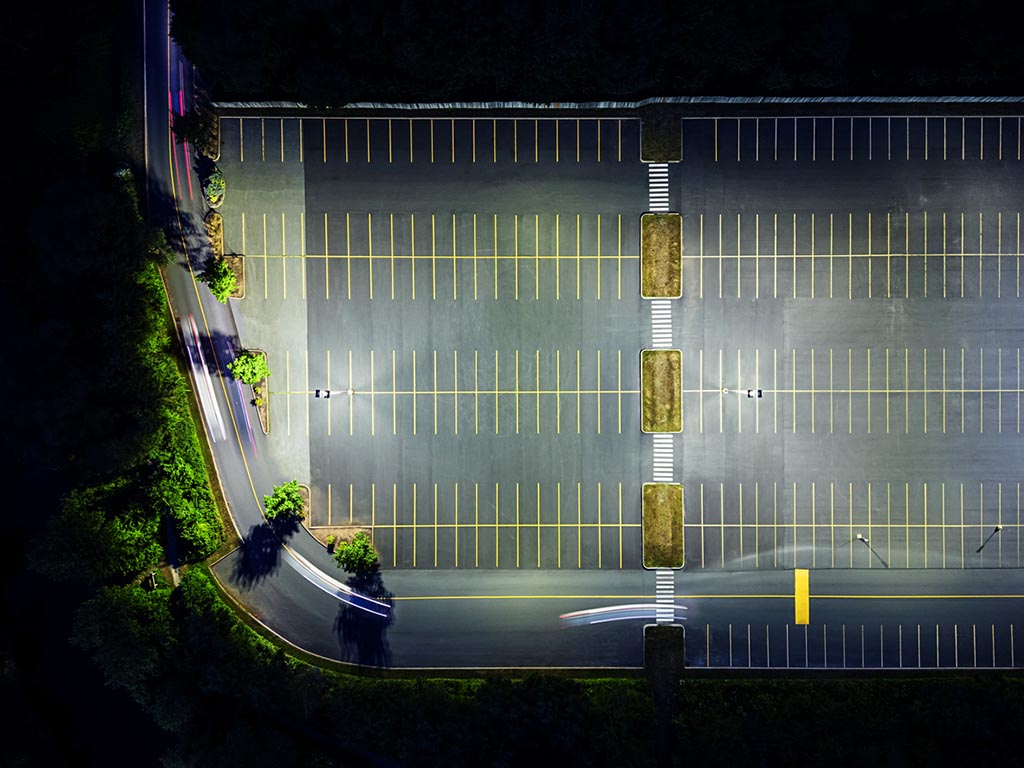 Importance of Parking Lot Light Poles in Boosting Parking Lot Safety
People tend to associate a poorly lit lot with higher crime rates or chances of accidents. Poorly lit parking lots are prone to more criminal activity, and once such incidents are reported, it can deter people from using the area. For businesses that thrive owing to the daily foot traffic, this can be detrimental to their profitability. Bright lighting is associated with fewer crimes in and around the parking lot. Installing substantial lighting in a parking lot enhances security and improves the entire area's appearance. This means more visual clarity for drivers and pedestrians, reducing the risk or liability associated with accidents on the premises—critical for business owners!
This is why professional expertise is required for installing or upgrading parking lot light poles to ensure sufficient lighting in a parking lot…
Number of Poles: An important factor in ensuring sufficient lighting is the number of light poles used. Many parking lots are well-lit during the daytime, but as it gets darker, artificial lighting should compensate for the lack of natural light. This can be done using adequate light poles across the parking area. Suppose there are restrictions on the number of poles that can be used. In that case, multiple lights might have to be integrated to boost the range of illumination provided by each pole.
Pole Height: it is hard to define a standard height for a parking lot light pole as every parking area has unique requirements. The lighting pole's height has a big role in the even distribution of lighting to ensure no area is too bright or dark. A pole too low can create a visual strain, compromising how well visitors and drivers can see, and a pole too high can create unwanted shadows. Some businesses might need the pole's height customized for their specific requirements.
Pole Location: distance between the poles is also important as some lots might have issues with the placement of light poles as there can be intersecting driveways or small green areas with dense vegetation. Spreading out the poles too much can reduce the width of the area illuminated. The height of each pole is a part of the calculations used to compute the ideal distance between the lighting poles. The premises might have more than one building. This can create extensive shadows. The light poles need to be set up so that such spots are avoided, and the lighting distribution is even.
Importance of Parking Light Poles in Boosting Surveillance Efficiency
A much lesser understood aspect of parking lot safety is how surveillance equipment, like cameras, is used. Video surveillance technology has progressed, and modern recording cameras can also capture images in darker, low-lighting conditions. However, the quality and penetration of the recording footage with more accuracy depend on how evenly the light is distributed. Surveillance cameras might face a barrier when light poles create a visual obstruction. Well-planned parking lot light poles can deter criminal activity on the property by eliminating dark spots. This can boost the overall efficiency of surveillance cameras, raising the chances of getting clearer footage around every angle and corner.
Expected Outcomes with Better Parking Lot Light Pole Management
With better parking lot lighting fixtures and light poles, some typical security threats can be discouraged, including:
Carjacking
Violent crimes
Pickpocketing
Purse snatching
Aggravated assaults
Attempted kidnappings
Vandalization of parked vehicles
Accidents during ingress/egress of vehicles
Personal injuries such as slips and falls
Importance of Parking Lot Light Poles in Parking Lot Maintenance
The choice of lighting pole makes a big difference to the expenditures associated with parking lot maintenance—important for businesses that need to employ personnel and tools to ensure that the parking lot lighting functions without any glitches. Aluminum and steel poles are often recommended because they allow the wiring to be managed internally. This helps by reducing the chances of repeated electrical repairs in the future. Such light poles usually come with designated junction boxes and switches, making the overall electrical system easier to access as a part of ongoing light pole maintenance. Since aluminum light poles are less likely to rust, it reduces the maintenance costs associated with applying layers of protective paint. Aluminum light poles might seem like an industry standard, as aluminum poles are inherently strong and still light in weight. Steel light poles are more suited for meeting extreme wind conditions and are considered the stronger option. Some lighting solution providers also offer galvanized steel, while some coat the steel's surface to boost durability. Recently, fiberglass light poles have become the preferred choice for businesses managing parking lots in areas with more exposure to rain, saltwater, or chemicals like fertilizers.
Importance of Parking Lot Light Poles in Parking Lot Aesthetics
Bright lighting with good coverage can make the parking lot safer and more welcoming to visitors. However, it is not just about creating a sense of safety. Parking lot light poles are big structures. An integral part of the parking area, these structures can look appeasing, adding to the area's visual appeal, or they can look worn down and compromise the aesthetics. This is why many lighting professionals recommend using aluminum and steel poles. Durable and easy to wash and repaint, these light poles are much easier to maintain. More resistant to suffering from wear & tear due to the weather, including lesser susceptibility to corrosion or rusting, such light poles tend to look better than wooden light poles.
Importance of Parking Lot Light Poles in Energy Performance
The choice of parking lot light poles directly impacts the type of lighting controls used. This is vital for energy conservation and for helping personnel manage the lights. The choice of parking lot light poles affects the use of different lighting management tools, such as:
Number of LED lights integrated on each pole to lower energy bills
Occupancy sensors to reduce lighting wastage
Photocells for eco-friendlier lighting
Manual switches are still preferred in many establishments
Concluding Thoughts: Choose a Parking Lot Lighting Expert
The benefits of smartly chosen parking lot lights and light poles include better safety and boosting the engagement levels of any business. However, upgrading to better-performing parking light fixtures is not easy due to the overwhelming number of choices and the lack of clarity about every product. LightMart offers a wider range of lighting solutions for all types of commercial applications, from parking lots to hotels, casinos, warehouses, garages, and restaurants. The service provider utilizes decades of experience to assist businesses in enhancing their lighting performance via customized solutions. Every project undertaken comes with the promise of industry-best warranties and consultancy to drive maximum efficiency and cost savings.